Lupo Bianco Custom Tailoring offers a range of high-quality men's suit pocket squares for our discerning customers, helping you complete the last sharp touches to your formal look.
Custom Pocket Squares for Your Personal Style
Our men's suit pocket squares are designed to complement our handmade suits and shoes, adding a touch of elegance and sophistication to your finished tailored outfit. Whether you are dressing up for a formal event, a semi-formal meet-up, or looking to add a touch of style to your everyday look, we have the perfect pocket square for you just waiting in our collection.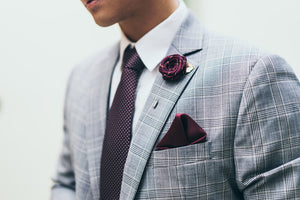 Versatile Styles for Your Pocket
Lupo Bianco's collection of pocket squares comes in a range of styles, including men's pocket squares in plain colours, silks, prints and patterns. Our silk pocket squares are perfect for those looking to add a touch of luxury to their outfit, while our handkerchiefs provide a more classic look. In our collection, you'll find formal pocket squares perfect for monumental special occasions like weddings, or coloured pocket squares that can add a bright pop of colour to any outfit.
We understand that every customer has unique tastes and preferences. That is why we offer a range of options to help you find 'your fit,' including our service for creating custom pocket squares for our customers. Whether you are after a particular fabric or pattern, our tailors can work with you to create a pocket square that perfectly matches your style and personality.
Complete Your Look with Our Bespoke Suits and Shoes
What's a dapper suit pocket square without a sharp suit? Lupo Bianco Custom Tailoring offers a range of suits and men's formal leather shoes to complete your smart formal and semi-formal looks and meet your dress code. Our formal suits are perfect for black-tie events, while our tailor-made business suits are ideal for making a statement in the office or any professional setting. Our wedding suits are tailored to make you look your best on your special day, and our casual suits are perfect for looking stylish on more relaxed occasions.
If you have any questions about pricing for our suits or would like to schedule a consultation with one of our expert tailors, please don't hesitate to contact us.