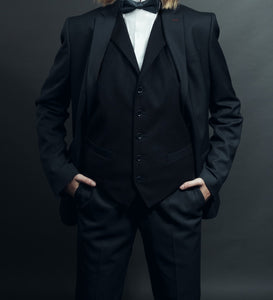 Custom Made Men's Tuxedo Pants
Men's tuxedo pants exude luxury and sophistication. Through the clean, sharp lines of the pants and their slim tapered design, tuxedo pants match the prestige and shine of your tuxedo suit jacket and any formal black-tie event. 
Unlike other men's suit pants, where you can get away with wearing a belt or are encouraged to wear one, men's tuxedo trousers must be appropriately custom tailored. 
With our master tailors at Lupo Bianco, you will be able to face any big event with confident strides. As a men's suiting tailor with many years of experience, we specialise in creating the perfect pair of custom tuxedo pants for our clients—where the perfect fit is guaranteed—allowing you to do without the belt, suspenders or adjusters for a flawless fit.
Enquire Now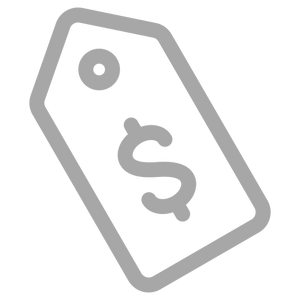 Affordable Price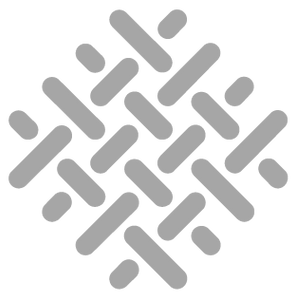 Premium Fabrics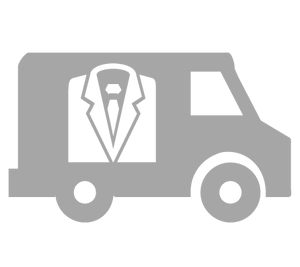 Mobile Service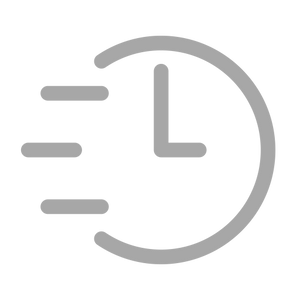 Fast Turnaround
Tailored in Finish and Comfort
As a groom on your wedding day or a guest at a formal event, you want to look your best for the whole extravaganza while never having your suit be distracting. Your tuxedo pants should be snug and closely drape against your lower half without being loose or tight and restricting. 
With Lupo Bianco, our suiting tailors are dedicated to ensuring you get a perfect fit and finish. Every pair of custom tuxedo pants is made-to-measure. We take a close measure of every customer, ensuring your tuxedo pants are well-fitting and sharp. While also allowing for movement to let you comfortably walk, dance, sit, or whatever else your event may require next.
Pricing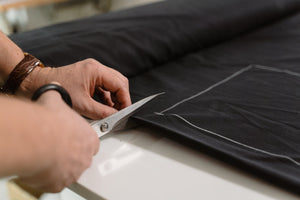 Immaculate Design
All men's tuxedo pants through Lupo Bianco are custom-made only and are designed by the men who wear them. We have over 5000 suiting patterns and an extensive range of premium fabrics and colours to create the perfect tuxedo pants to fit your style, preferences, gait and physique.
The most timeless and traditional colour you can choose for men's tuxedo pants is black. However, men's dining suit wear has relaxed over the years, and you can choose to have your custom pants in other dark colours, with the exception of the crisp and contemporary ivory. You can decide to mix up your jacket and pants for contrast or match both for a more cohesive look.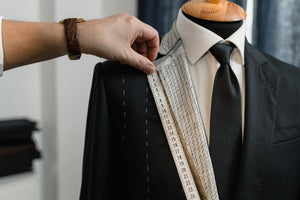 Start planning your tuxedo pants
Our master tailors at Lupo Bianco take every step of the tailoring process seriously to ensure top quality pants. Book your measurement appointment now, and we'll help arrange a date for a tailor to take your measurements and walk you through the process of designing your custom tuxedo pants. We sometimes also find some men want adjusters in their pants, to help deal with bloating after dinner. 
As a handmade garment, we always recommend leaving a lot of time and booking in advance to alleviate any stress. 
Wide Range of Premium Material Choices
Our master tailors understand the need to express your individual style, which is why we offer over 5,000 distinct suit patterns, colours, and suit linings. With so many suit combinations, you are assured a flawless fit at Lupo Bianco custom tailoring.
Our Simple 4 Step Process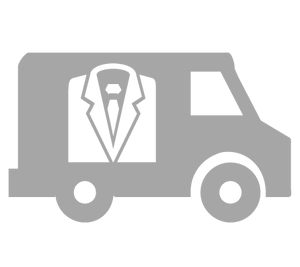 We Come to You
Our expert in-house tailors will come to you at a time and place of your choosing, and have you measured in less than 30 minutes. You will be able to customise your suit right down to the design and fabrics.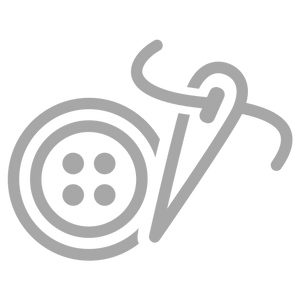 Stitched to Order
Hand-made by master tailors with over 35 years of experience. Your brand-new, custom suit will take up to 4 to 6 weeks to make.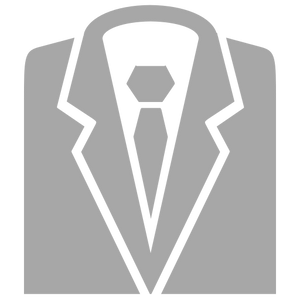 Delivered to You
Your custom suit will be delivered to you in person by a Lupo Bianco staff member within 4 to 6 weeks.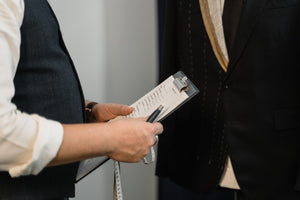 Got A Question?
Head to our FAQS page to find the answer to our most commonly asked questions.