Wedding Suit Tailors Sydney
There are many things to consider when choosing a wedding suit, including the colour, pattern, style and fabric. Lupo Bianco Suit Tailoring's tailors are specialists in making tailored wedding suits. With an array of fabrics and patterns available, we provide high-quality men's tailored wedding suits that are sure to elevate your style on the big day. And we do that without denting your pocket.
We understand that you need to look your best on your wedding day. So, we offer as many fittings as possible to get the perfect fit that will make you look spectacular on your wedding day. We also make breathable suits to ensure you remain comfortable on your big day, no matter the weather.
Enquire Now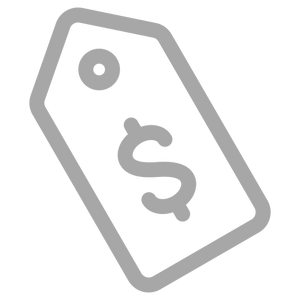 Affordable Price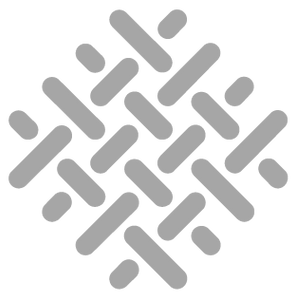 Premium Fabrics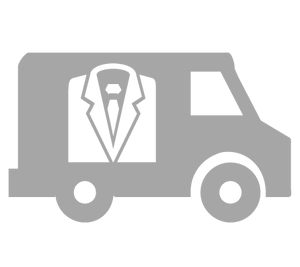 Mobile Service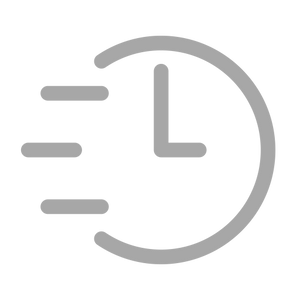 Fast Turnaround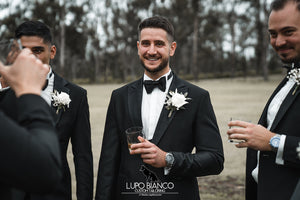 Bespoke Wedding Suits in Australia​
With a vast selection of fabrics and styles to choose from, we guarantee you will find what you're looking for! Moreover, we can customise the design you want to suit your preference. We pride ourselves as one of the best wedding suit tailors in Sydney.
Our experts will walk you through the selection process. All our customers get superstar treatment to ensure they look superb on their wedding day.
Pricing
Our Process
We offer men's tailored wedding suits that are hand-made and customised at affordable pricing. Creating your perfect, made-to-measure wedding suit with us is effortless and straightforward, leaving you feeling fantastic throughout the process. When you partner with us, here is what you can expect: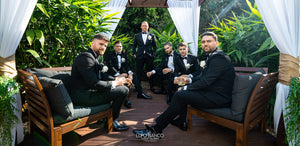 Step 1: Book an Appointment
Once you book with us, either online or by phone, we'll ask a few simple questions of you, so we can start with visions of your perfect suit. 
Step 2: Get Your Measurements Taken
We would love to have you at our store, but if that is not possible, we will have someone come to your office or home. We will take 18 different measurements — this will take about 30 minutes. These specific measurements will help us make sure your suit fits your body perfectly.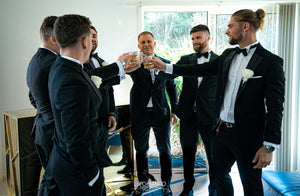 Step 3: Stitching
You get to relax while one of our master tailors works on your suit. Our tailors have over 35 years of experience and hand-make each suit to order, so you get exactly what you're looking for. Your suit will take approximately 4 to 6 weeks to make, as we won't compromise on quality just to get a suit out the door. 
Step 4: Delivery
Once your suit is complete, we'll deliver it to your doorstep personally. 
Premier Fabrics & 100% Handmade
Our talented tailors also regularly work with groomsmen to create the perfect look and feel for the big day. For individuals needing a one-off Wedding Suit, we can design a versatile custom suit that you can use for many years to come with our customisation options. A tuxedo is a great option for evening weddings, offering a stunning, striking image with crisp wedding shirt in sharp satin edges. While a lighter jacket with a matching wedding vest has also been popular for grooms and groomsmen in some country, garden or beach weddings, along with a matching or darker pair of wedding pants.
Our affordable Wedding Suits are made with the highest quality fabrics and are available in an eye-catching range of colours, patterns and designs.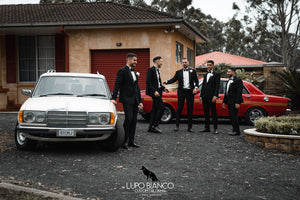 The Best Wedding Suit Tailors in Sydney
While it can be a daunting task to find a suit for your wedding day, we are here to simplify the process. With our many years of experience designing tailor-made wedding suits, you can expect quality and efficiency from us. So, if you are searching for a wedding suit tailor near you, a big congratulations for stumbling upon us! We will be happy to make your big day a success.
Contact us today, so we can get started on creating the perfect wedding suit just for you.
Wide Range of Premium Material Choices
Our master tailors understand the need to express your individual style, which is why we offer over 5,000 distinct suit patterns, colours, and suit linings. With so many suit combinations, you are assured a flawless fit at Lupo Bianco custom tailoring.
Our Simple 4 Step Process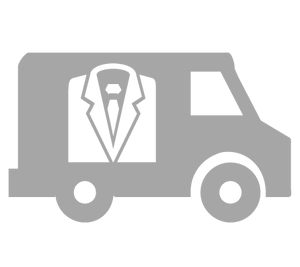 We Come to You
Our expert in-house tailors will come to you at a time and place of your choosing, and have you measured in less than 30 minutes. You will be able to customise your suit right down to the design and fabrics.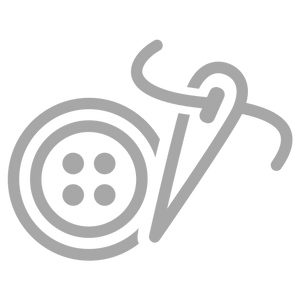 Stitched to Order
Hand-made by master tailors with over 35 years of experience. Your brand-new, custom suit will take up to 4 to 6 weeks to make.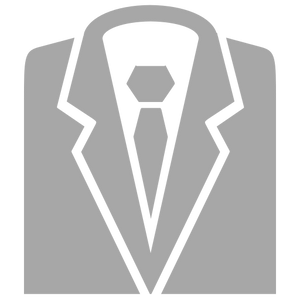 Delivered to You
Your custom suit will be delivered to you in person by a Lupo Bianco staff member within 4 to 6 weeks.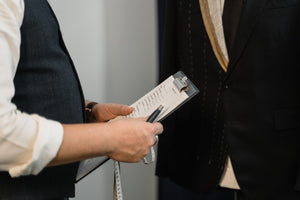 Got A Question?
Head to our FAQS page to find the answer to our most commonly asked questions.