Elegant men's formal attire always starts from the bottom. As tailors, dedicated to helping our clients look their best, Lupo Bianco is proud to bring you our collection of men's leather shoes and dress shoes. 
Men's Leather Shoes for Every Occasion
At Lupo Bianco, we understand the significance of premium footwear to complete your look. Whether you're attending a wedding, business meeting, or formal event, our collection has the perfect shoes to match your attire. Our collection of men's leather shoes features the classics such as oxfords, brogues, and loafers, crafted with the utmost attention to detail. We use the finest materials in every shoe to guarantee both comfort and longevity for every user.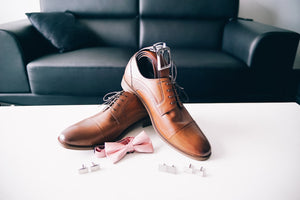 Men's Dress Shoes for Formal Events
Shop a range of men's dress shoes perfect for any occasion. From a day at the office to a black-tie event, Lupo Bianco's formal shoe collection offers suave options for tuxedo shoes, wedding shoes, and formal dress shoes. With designs ready to elevate your level of style and finesse in your formal outfits. For business professionals, we also offer a range of smart casual business shoes that are versatile enough for a comfortable and sharp presentation in any office environment.
Custom-Made Suits for a Perfect Fit